ICE Group are currently running a recruitment campaign for Justice Health & Forensic Mental Health Network of New South Wales Australia. The Network is looking for Mental Health Nurses and Clinical Nurse Specialists to fill a number of vacancies. Continue reading to learn more about the variety of opportunities and incentives that could be offered to you if you choose to work with this wonderful organisation.
What is Justice Health & Forensic Mental Health Network (JHFMHN)?
JHFMHN is a part of the wider New South Wales public health service. The Network delivers health care to adults and young people in contact with the forensic mental health and criminal justice systems, across the community, in in-patient and custodial settings. Caring for over 30,000 patients annually, the Network provides care to a highly vulnerable patient population, who have commonly had minimal contact with healthcare services in the community but have complex needs. JHFMHN use a trauma-informed approach to patient-centred care and rehabilitation, with the goal of returning healthier patients to their communities.
Where is JHFMHN based?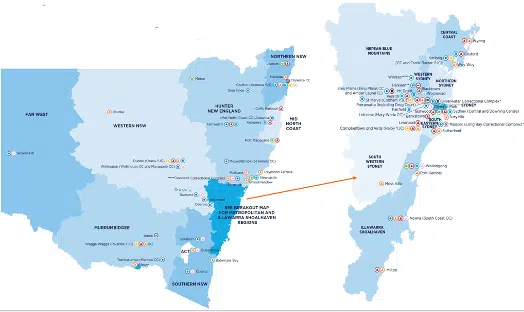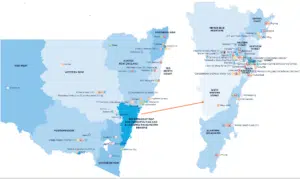 JHFMHN work throughout the state of NSW. They provide services in various geographical locations, ranging from metropolitan areas in the heart of Sydney to regional and rural areas (see map below). The Network provide care in many different settings- in-patient, custodial and in the community. Within the Network, different jobs may require you to work full time in one location or travel between different locations/work as part of telehealth service. There is a lot of variety within the Network!
Why Work for JHFMHN?
The Network offers very competitive rates of pay and certain other salary-related incentives that are not available within other local health districts in NSW.  Within the Network, salaries range from $65, 450 AUD – $91, 920 AUD for RNs depending on their experience level. For Clinical Nurse Specialists salaries range from $95,660 AUD to $106,130 AUD. The Network is committed to providing a good rate of pay and reasonable workloads, to allow you to not just 'live' but to 'live well'. The Network also offers salary packaging- with certain living costs such as rent/mortgage being paid for directly out of your gross salary, thereby lowering your taxable income and saving you money. There is also an environmental allowance of up to $7000 per annum available to staff in the Network as a state incentive to work in correctional settings.
Working in the Network will open doors for you for further training and career advancement opportunities. The Network takes pride in delivering exceptional evidence-based care and wants to train its staff to high levels in order to achieve this. The Network offers internal secondments, projects and research opportunities to help you develop your professional portfolio. Along with your professional development, the Network are committed to the welfare of their staff- they follow a policy of 'caring for our carers' and run staff welfare programs to promote this. There is also a large ex-pat community within the Network, so you are likely to be working with people who have also gone through an immigration journey and can offer you advice based on their own experiences.
To support you in your transition, Justice Mental Health offers a very generous relocation package to the staff coming from overseas. This includes a visa sponsorship cost reimbursement of up to $7000* per candidate (can be used to cover dependents visa fees also), a $1,500 relocation cost reimbursement for a metropolitan placement, a $3,000 relocation cost reimbursement for a rural placement and up to $500 vehicle rental reimbursement for up to two weeks after arrival (*Initial fees must be paid by the candidate. 50% will be reimbursed on arrival and 50% after 12 months service). As a personal touch, they also provide you with a welcome hamper including all of their favourite Australian treats!
Ireland and UK Roadshow
We are very excited to announce that we have two lovely representatives from JHFMHN, Shona MacLeod and Kevin Baron, making the trip from Australia to join us for a Recruitment Roadshow this October, taking place in cities across the UK and Ireland. Commencing on October 3rd 2022, we will be holding face-to-face interviews and meet-and-greet information sessions where you will have the opportunity to meet Shona and Kevin, who themselves are ex-pats from the UK who made the decision to join the Network many years ago and stayed on and settled in New South Wales. In Week 1 (week commencing October 3rd) we plan to hold events in London, Glasgow and Manchester and in Week 2 (commencing October 10th) we will be travelling to Dublin and Belfast. Follow our social media to keep up to date with the latest news on our events- join our LinkedIn Group or Facebook Group.
Check out our Vacancies!
ICE Jobs, on behalf of the Justice Health and Forensic Mental Health Network, is recruiting Mental Health Nurses- Custodial Mental Health, Mental Health Nurses- Forensic Hospital and Clinical Nurse Specialists. If you are interested in the opportunities the Network has to offer you, apply now through our website or contact us directly at nurse@icegroup.ie to set up an initial conversation.