I recently met with Emily Bainbridge as part of our podcast series for our Hunter New England Overseas recruitment campaign. Emily is a dual qualified registered nurse and registered midwife working in Tamworth Hospital in New South Wales. Having been a registered nurse for 11 years, last year Emily got the amazing opportunity to undertake a 12-month state-sponsored training programme to become a midwife. In this podcast, she tells us about her experience as a newly qualified midwife in Tamworth and gives us an insight into what life is like in this beautiful city in northeast NSW.  
Tell us about Tamworth Hospital and its Maternity Services 
Tamworth Rural Referral Hospital is the largest health facility in NSW outside the Sydney-Wollongong-Newcastle metropolitan areas. In the last 5 years, it underwent a huge redevelopment with approximately $220 million being spent on the hospital. It is a level 4 hospital providing a wide variety of services. The hospital has two general medical wards, two surgical wards, an ICU, maternity services with birth suites, outpatient services, operating theatres, a cancer clinic, an oncology ward, a renal unit, a 24-hour emergency department, a palliative care service, a paediatrics ward and a special care nursery.  
The maternity unit saw approximately 1150 births last year and as of July this year had reached over 600 births in 2022. In the unit, they deal with both high and low-risk cases. There is a lot of variety- in one room you could be dealing with a low-risk mother giving birth using only dopplers for foetal heart rate monitoring while in the next room you could have a complex high-risk case. This variety means there's a lot of learning and experience to be gained and it keeps things interesting! Midwives usually rotate through different areas of the maternity unit- between clinics, birthing suites and post-natal wards.
At Tamworth, they follow a midwifery-led model of care with obstetrician input if needed, for example in cases of high-risk pregnancy or when a mother has certain risk factors. In these cases, there will be a collaborative approach to care between doctors and midwives, with the patient having ante-natal appointments with both doctors and midwives and the birth being managed by midwives, but with doctor input. Low-risk mothers may only see a midwife for the duration of the pregnancy and during labour and delivery. There is a real incentive here to train midwives really well so that they only call on doctors when it is absolutely necessary.
What Education and Professional Development Opportunities are there in Tamworth Hospital?
New South Wales is the only state that offers the conversion course for registered nurses to become midwives. This 12-month course is completed funded and while training as student midwives, nurses receive their income in the same way they would if they were working as an RN. This opportunity to become dual qualified and not lose any income is a huge perk to working in NSW from Emily's point of view. Even though Emily has only been qualified as a midwife for 6 months she has already had access to lots of educational opportunities. She describes the education in Tamworth as 'incredible'. There are daily in-services at shift changeover time where midwives are trained/retrained on various skills. This strong ethos of training and education contributes to the success of the midwifery-led approach to care within the unit. Emily feels she has lots of future career opportunities, such as becoming an educator to student midwives or becoming a clinical midwife unit manager – 'At Tamworth hospital, we like in investing in our own people and seeing our own people grow'.
What Challenges do you face in the Maternity Unit?
Staffing shortages are a huge problem within NSW and they've only been exacerbated by COVID. There are strict guidelines in place to keep mothers, babies and staff safe. Any respiratory symptoms mean staff have to stay home, which has posed a big challenge.
Do you have many Overseas Nurses working in the Maternity Unit?
At Tamworth, they would love to see more overseas nurses coming on board. Of the overseas staff currently in the unit, Emily has only wonderful things to say- 'They are amazing and we love them and we want to keep them!'. From her experience, the overseas staff that come always extend their contracts and love to stay on.
What is Tamworth like as a Location?
For Emily, it was important that her kids be brought up with a country influence on their lives. She wanted to live in a place with wide open spaces with lots of room to run around, whilst still having access to the creature comforts of a more metropolitan area. Tamworth is the perfect fit. In terms of schools, there is a mix of public and private and there are at least a dozen. The lifestyle is great on days off you can enjoy sporting activities such as horse-riding and nature trails or try out one of the region's delicious food and wine experiences.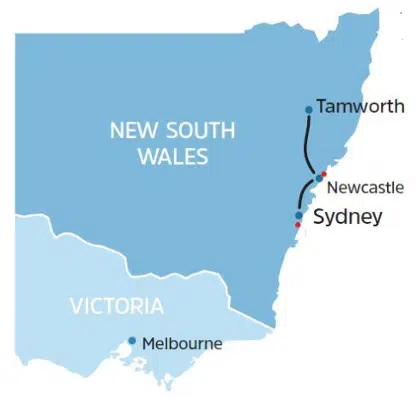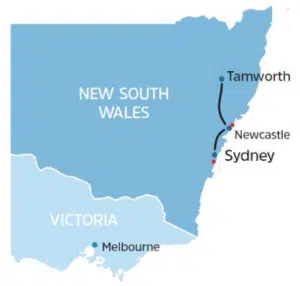 Tamworth is also the Country Music Capital of Australia, with the annual country music festival bringing visitors from all over the country! The cost of living is more reasonable than in larger cities, when Emily moved from Sydney to Tamworth she found it was cheaper to own her own property there than it had been to rent a place in Sydney.
Why should Tamworth be your No.1 choice as a midwife looking to relocate to Australia?
At Tamworth Maternity Unit, you would be a part of a team who loves each other and have some of the best times of their lives while at work. According to Emily  'We are all the best of mates here at Tamworth. When someone new comes along we foster and support them to make them feel at home.' With lots to do, friendly locals, beautiful landscapes and warm weather, Tamworth is a really lovely place to work and build a life for yourself.
If you would like to join the passionate midwifery team at Tamworth Hospital, apply now through our website www.icejobs.ie or contact us directly at nurse@icegroup.ie to set up an initial conversation.