Continuing our podcast series for our NSW midwifery campaign, I recently had the pleasure of meeting with Chelsea Simpson and Michelle De Vroome.  
Chelsea has been a midwife for 5 years, the last year of which was spent in Hornsby Hospital, a place she describes as a "fabulous place to work". She has been working in a Midwifery Manager position on secondment for six months and has enjoyed stepping up and trying something new.  
Michelle has over 20 years of experience as a midwife. She started as a Registered Nurse before moving into Midwifery after a year and has never looked back. Over time she has progressed through being a Midwifery Consultant and then onto her current role of Midwifery Manager for the local health district.  
Midwifery Services in Northern Sydney Local Health District
Across the district there are two Major Public hospitals providing maternity services:  
Hornsby Hospital, Hornsby, NSW.

 

Royal North Shore Hospital, St. Leonards, NSW.

 
Geographically the district covers north of Sydney harbour as far as the Hawkesbury river, so a pretty vast area that goes from bush to sea. 
Hornsby Hospital
Hornsby Hospital has nearly all levels of models of care with the exception of high risk, which is filtered to the Royal North Shore Hospital. The maternity unit in Hornsby saw around 1200 births a year.  Services include a birthing unit, special care nursery, maternity ward and in the antenatal clinic there are a few different models of care on offer.  Specifically, midwifery group practice. This is the caseload model of continuity of care, and Hornsby has just started a pilot model of MAPS (Midwifery, Antenatal, Postnatal Services) continuity model of care for the antenatal and postnatal period, where women are allocated midwives for the total of their pregnancy. 
Royal North Shore
Royal North Shore is the tertiary unit and services there include the Midwifery group practice, the Midwifery, Antenatal, and Postnatal (MAPs) models of care. The unit welcomed about 2500 to 2600 births last year. It is a state-wide service so it looks after women and neonates coming in from all across the state of New South Wales as they require it, and also access to the Maternal Foetal Medicine Unit. 
Collaborative Service Approach
All of the services have collaborative obstetrics care with close relationships fostered between all of the hospitals. Further evidence of this collaborative structure is provided by the Maternal Neonatal Womens Health Network which brings all of the hospital executives together.  
The added benefits to these arrangements are that the midwives and obstetricians working in the district will know each other and regularly move between units enabling many career progression opportunities.   
In the podcast, we go into more detail on some of the newer models of care employed in Northern Sydney and delve a bit deeper into the more complex areas of Maternal Foetal Medicine and the opportunities available to develop your skills and further your career.  
What is Northern Sydney Like to live in?
One of the things that is great about Northern Sydney is that you've got a vast area in which you could base yourself. As mentioned above, the area covers from bush to sea and reaches the northern suburbs of Sydney itself.  
Michelle lives in Hornsby only about 10 minutes from the hospital. Hornsby is something of a gateway to the outback of NSW and yet still not too far a drive to either the beautiful waterways of the Hawkesbury river or the Northern Beaches. The Northern Beaches include Palm beach which a lot of UK or Irish-based fans of the Aussie soap "Home and Away" might recognise.  
It's a great area for families with plenty of room, nice big backyards to avail of the Aussie BBQ culture and plenty of great schools around. There are also a lot of picturesque areas to explore scattered among the suburbs like Berowra Waters and Bobbin Head.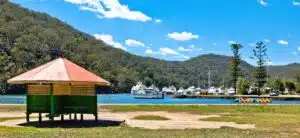 Further South toward the Royal North Shore Hospital it's very accessible whether you're travelling from the quieter family-friendly Hawkesbury regions or whether commuting from the Northern Suburbs of Sydney itself, such as North Sydney, Crows Nest or Neutral bay. Nearly all of these areas are well-serviced with road and rail options. Whether you want to live a lively social lifestyle close to the big city, get your surfing lessons going and live a beach lifestyle or even if you're looking for a more relaxed way of family living in the outer suburbs, there is no shortage of options for potential candidates.  
It's really inclusive from a staffing point of view and everyone is really welcoming. The team of midwives is really collegial, they all really support each other and there are great opportunities for career progression.  
The working week is quite flexible as well and can suit many different ways of working. There are different shift lengths, from 12-hour shifts down to 10 or even 8-hour shifts. Due to the flexible shift work options, Chelsea sees colleagues posting on Instagram about their morning spent on the beach before they start a shift. "It's definitely a very good work-life balance, there's lots to do around and lots of places to see" she added. 
Lastly, are there many overseas staff working in the Northern Sydney Local Health District district?
Yes, Michelle told us that the newly appointed Midwifery Unit Manager is from Ireland and the lactation consultant in Hornsby is from the UK which is just two examples out of a lot of others who have moved over from the UK or Ireland. A lot of the UK and Irish nurses tend to gravitate toward the Northern beaches and really get stuck into that beach lifestyle.  
Check out our podcast to hear first-hand from Michelle and Chelsea – or get in touch with the ICE Nurse Healthcare Recruitment team and book yourself in for a face-to-face interview in March 2023 to meet the NSLHD Team.